Source: Dolce & Gabbana
Maybe some of you are not familiar with sports but definitely if you love fashion, you know something about Pitti Uomo. Everybody stumble twice a year into gorgeous pictures of beautiful guys dressing impeccable suits in the streets of Italy, especially if you read some menswear blogs and visit sometimes in a while The Sartorialist and Jak and Jill.
Pitti is the unicorn paradise for menswear, the best fitting and fabrics are there, the classic designs and of course, the designers of tradition, those who made a statement about the elegance in men's costumes. One of the most expected shows every year is Dolce and Gabanna, the guys with the best model line-up ever and a signature of modernity, sensuality merged with the classic style of every Italian design house. Dolce and Gabanna are responsible to make Lionel Messi look great. If you are the best soccer player in the world, maybe the best in history, you better wear something more than nice. Year by year we saw the advance of style and risk into his outfits and today, in the ceremony of the the Ballon d'Or awards, we saw Messi wearing something shocking ( at least for those who are not get used to the flamboyant fashion spirit from McQueen to Della Russo), a polka dot suit with a matching bow tie.
I know, for me it was like "I love his suit! He looks so nice, must be a D&G!", but for the sport commenters it was a disaster. They can´t explain exactly why, but it was a rare thing they couldn´t stand. People started talking about the suit and if it was proper or not instead of the award itself. Then my mind debate started. Is my mind so freaked out about all the things I see every day on magazines, blogs and other inspirational sources that I can´t recognize when something is "normal" and "appropriate" and something is just wrong? Am I a fashion crazy person? Is that the reason why people always stare at my shoes in a weird way? I guess I went too far.
The point is, Messi looks bananas in Dolce and Gabanna, without considering if the suit is over the top or not, he was comfortable and he also was following the dress-code. You can see the confidence in somebody´s face when something is right with the outfit, you can see it in the way he walked, the comfortable of every movement and corporal expression ( and even if he wasn´t, he looked so damn nice! ) I congratulate him for the award, is awesome to see him playing and become the best in front of our eyes. I also congratulate him for wearing without any fear the Dolce and Gabanna suit, even if is not the favorite between the crowd, it was his night and definitely the suit made him stand up. Is not about what people thinks, is about the way you feel and how comfortable you are inside an outfit. The question is, what do you think? It was a goal or he missed the opportunity to score in fashion field?
With Cristiano Ronaldo and Andrés Iniesta: (I love the Iniesta's navy option)
This is last year suit, a gorgeous velvet touch: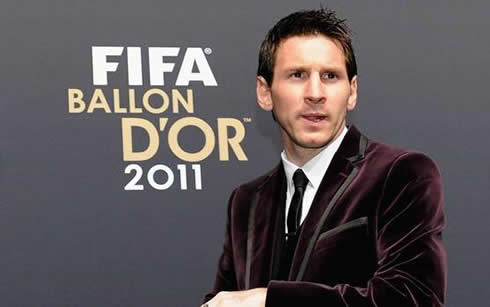 And to follow up the debate, here is a funny note by USA Today, with this kind of comments:
"He looks like…

... a magician who works exclusively with white pigeons.

" Or "

the third contestant eliminated from

Project Runway

.

" And

"

Cyndi Lauper's date to the 1986 Grammys". Oh! Those funny guys.
Yes, with Gerard Depardieu: